Wingspan
Regular price
$109.95
Sale price
$84.95
Unit price
per
Sale
Sold out
Game Details
Number of Players: 1-5
Recomended Age: 10+
Play Time: 40-70 Mins
Complexity: Low Complexity
Interactivity: Low Interaction
Wingspan is a competitive, medium-weight, card-driven, engine-building board game from designer Elizabeth Hargrave and Stonemaier Games. It is the winner of the prestigious 2019 Kennerspiel des Jahres award.
You are bird enthusiasts—researchers, bird watchers, ornithologists, and collectors—seeking to discover and attract the best birds to your network of wildlife preserves. Each bird extends a chain of powerful combinations in one of your habitats (actions). These habitats focus on several key aspects of growth:
Gain food tokens via custom dice in a birdfeeder dice tower
Lay eggs using egg miniatures in a variety of colors
Draw from hundreds of unique bird cards and play them
The winner is the player with the most points after 4 rounds.
If you enjoy Terraforming Mars and Gizmos, we think this game will take flight at your table.
Featured Components:
170 unique bird cards (57x87mm) + 10 unique bird cards in the swift-start teaching guide
26 bonus cards (57x87mm)
16 Automa cards (57x87mm)
103 food tokens
75 egg miniatures
5 custom wooden dice
5 player mats
1 birdfeeder dice tower
2-piece Game Trayz custom tray
1 goal mat
8 goal tiles
1 first-player token
40 action cubes (8 per player)
1 Score pad 
3 Rule books, including a learn to play and swift start guild to get the game on your table faster. 
Shipping & Handling

All of our games are packed and shipped to you by the next business day.

We ship where possible by re-using materials from our own deliveries. We do this to minimise our own enviromental impacts in getting your games to you.
Share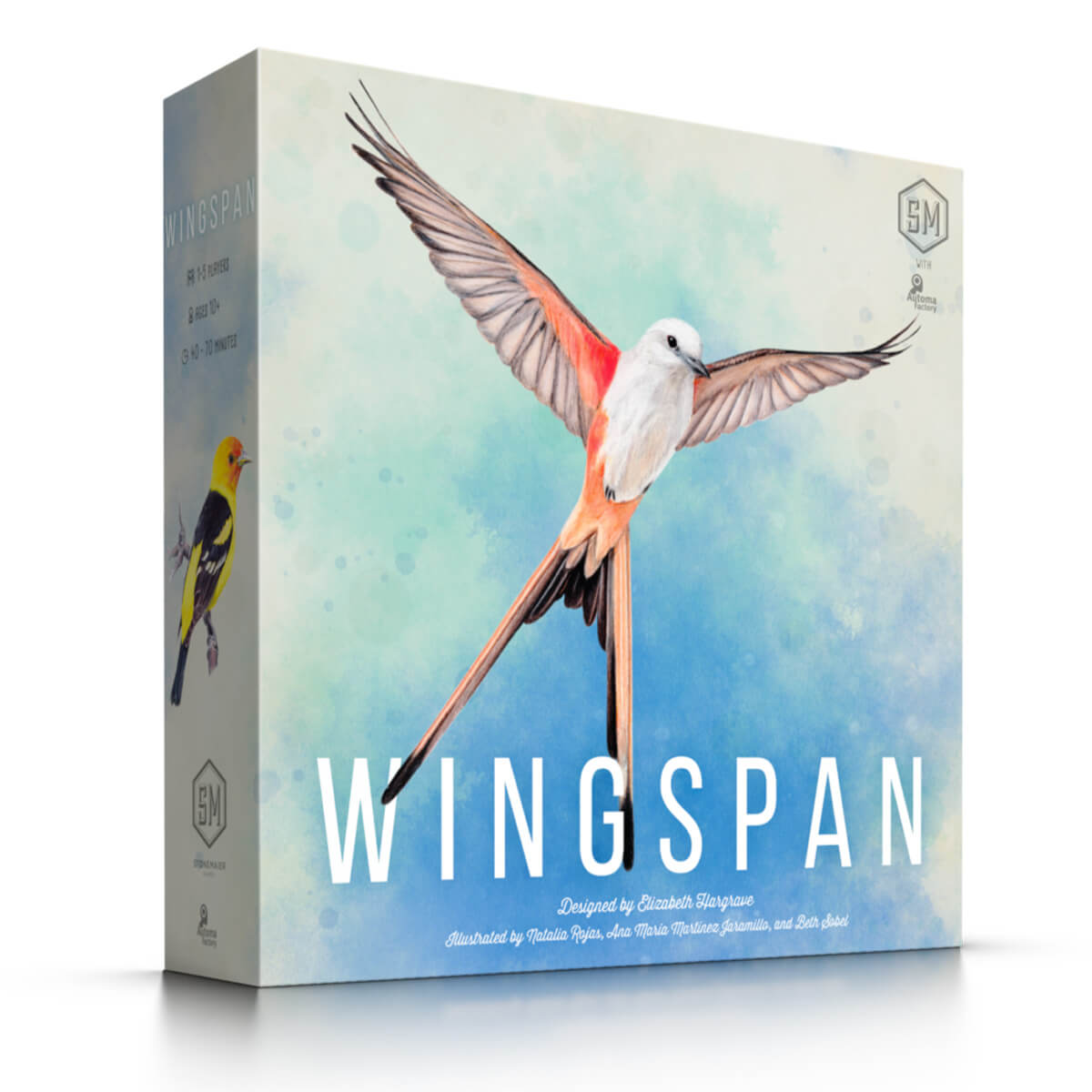 Wingspan Resources
BoardGameGeek is an excellent resource including reviews, community forums and videos. The forums are full of helpful informtaion and there is a genuinely helpful community. It is one of our favorite resources, although does tend to be focused on heavier games.
How to Play Wingspan