Nemesis: Lockdown
Regular price
$269.95
Sale price
$199.95
Unit price
per
Sale
Sold out
Game Details
Number of Players: 1-5
Recomended Age: 12+
Play Time: 90-180 Mins
Complexity: High Complexity
Interactivity: High Interaction
Nemesis Lockdown is the first standalone expansion to the hit space survival horror game Nemesis (you do not need Nemesis to play). This time around, players are venturing into a secret base on Mars, and is played on a multi-level board!

Nemesis Lockdown creates a cinematic experience as you fight to survive, and escape the Mars facility.
Semi-cooperative, and with some new mechanics, players explore rooms and use actions to run, move, fight those pesky creatures that interfere with living, and ultimately aim to achieve their own personal objectives... possibly at the expense of others.
With new rules for power and light on different levels, multi-level actions (including stairs and elevators), advanced computer actions, contingency procedures, CSS hatch system, and, of course, new aliens and creatures, players old and new will find something terrifying/exciting in this big box of incredible game.
Mechanics
Cooperative/Semi-Cooperative
Exploration

Hidden Objectives
How to Play Nemesis: Lockdown?
Each player has a unique character with their own deck of cards. Player take turns exploring the secret Mars base, using their deck to move, search, and ultimately survive. As they explore the base you and other players will be placing noise tokens. Eventually your noise will attract the deadly intruders and you will have to fight or run for your life. 
How to win at Nemesis Lockdown?
Before you try to win at Nemesis: Lockdown you need to first not loose, and by loose I mean die. If you make it through the game, don't die, don't get infected, and are not neutralized by the contingency plan... then you should check your remaining objective, if you completed it you win. There can be more than one winner in a game of Nemesis.
Shipping & Handling

All of our games are packed and shipped to you by the next business day.

We ship where possible by re-using materials from our own deliveries. We do this to minimise our own enviromental impacts in getting your games to you.
Share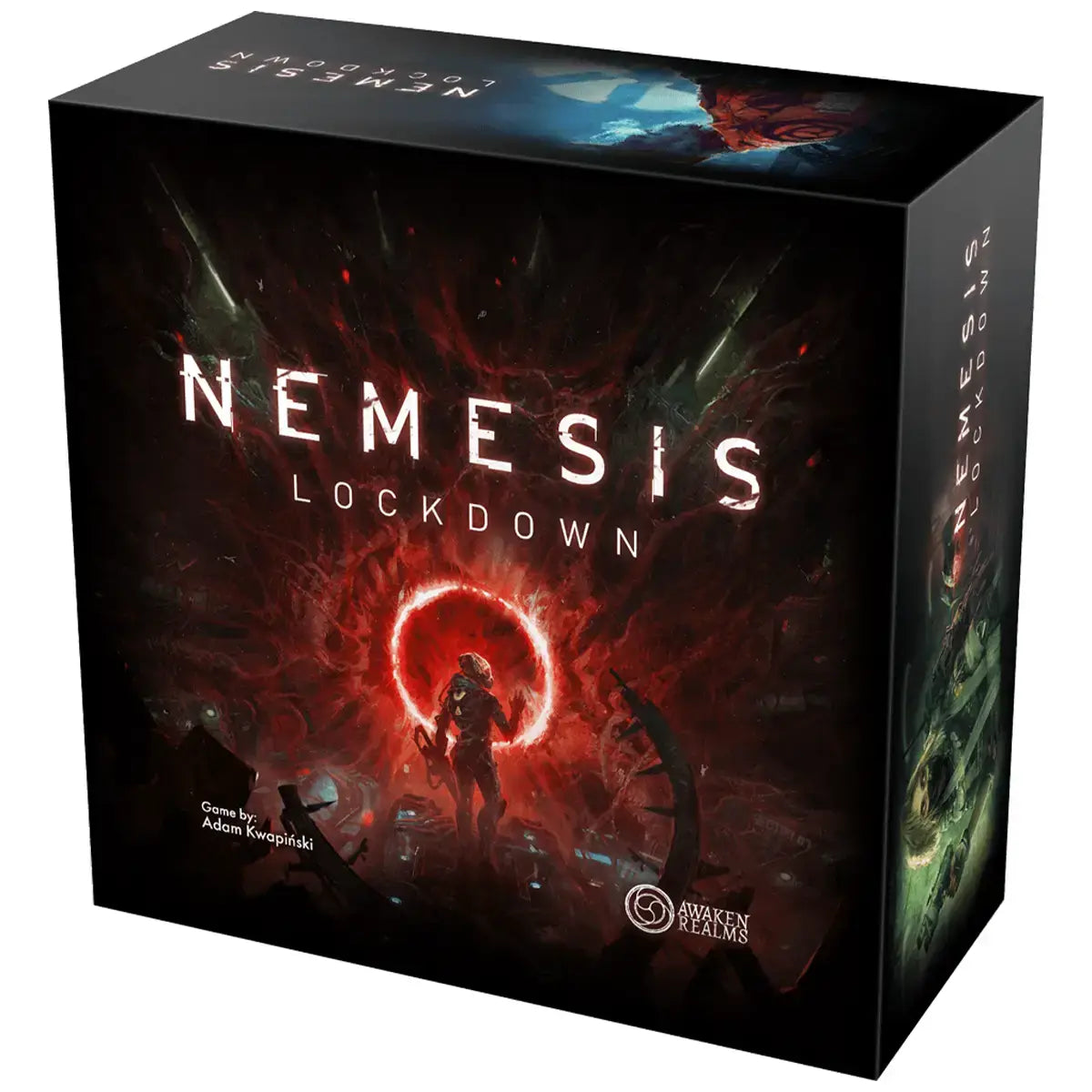 Nemesis: Lockdown Resources
BoardGameGeek is an excellent resource including reviews, community forums and videos. The forums are full of helpful informtaion and there is a genuinely helpful community. It is one of our favorite resources, although does tend to be focused on heavier games.
How to Play Nemesis: Lockdown
Nemesis: Lockdown Review