Great Western Trail Argentina
Regular price
$119.95
Sale price
$67.95
Unit price
per
Sale
Sold out
Game Details
Number of Players: 1-4
Recomended Age: 12+
Play Time: 75-150 Mins
Complexity: Moderate Complexity
Interactivity: Moderate Interaction
Great Western Trail: Argentina is a board game set in the late 19th century, where players own vast estates in Argentina and must navigate the plains of the Pampas with their cattle to deliver them to the main train station in Buenos Aires. The game incorporates familiar elements from Great Western Trail, like deck management, the rondel mechanism, and upgrading player boards, while introducing new features and twists.

Players utilize a new type of worker called farmers and encounter diverse paths on the game board that present them with more strategic choices. They can choose between taking routes with buildings or interacting with farmers. Additionally, players can use their cows' strength to assist farmers, gaining their support and adding grain, a new resource, to their income. Grain is then used for boat and city tiles, unlocking shortcuts to hasten cattle delivery. Timing becomes crucial, as valuable bonuses await at the city's port tiles.

Money is more accessible in Great Western Trail: Argentina, but players face increased complexity with action options, shortcuts, and cards, including the new exhaustion cards, ensuring constant challenges. Furthermore, the game includes a solitaire challenge for those seeking to beat Pedro's score.
Shipping & Handling

All of our games are packed and shipped to you by the next business day.

We ship where possible by re-using materials from our own deliveries. We do this to minimise our own enviromental impacts in getting your games to you.
Share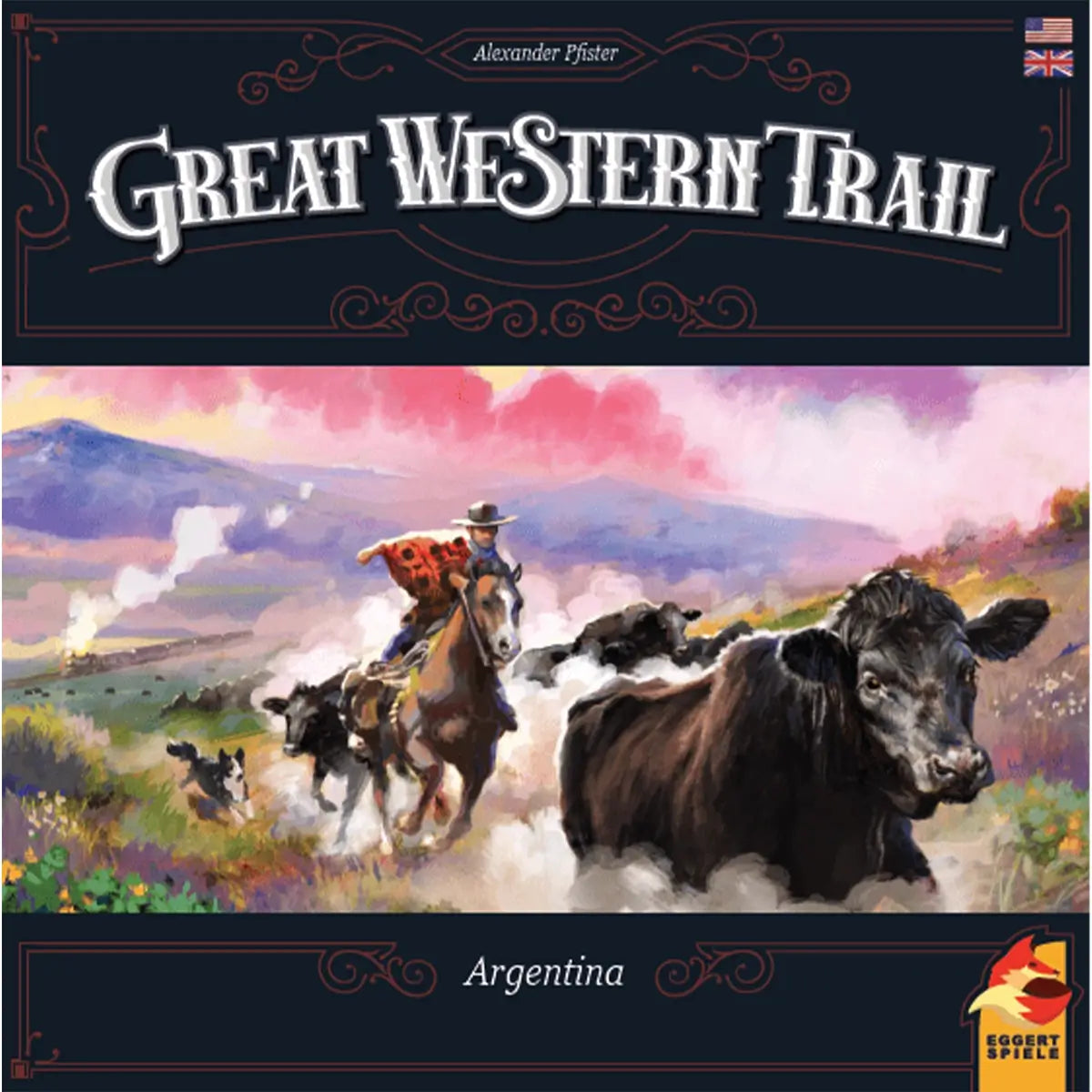 Great Western Trail Argentina Resources
BoardGameGeek is an excellent resource including reviews, community forums and videos. The forums are full of helpful informtaion and there is a genuinely helpful community. It is one of our favorite resources, although does tend to be focused on heavier games.
How to Play Great Western Trail Argentina
Great Western Trail Argentina Review