Cosmic Frog
Regular price
$134.95
Sale price
$129.95
Unit price
per
Sale
Sold out
Game Details
Number of Players: 2-6
Recomended Age: 13+
Play Time: 45-90 Mins
Cosmic Frog World Eaters from Dimension Zero is one of the craziest games there is. "The Game of Strategic Gluttony" I sometimes describe it as violent Carcassonne because that makes sense. This game does not make sense. Let me try explain.
You are a 2 mile high frog jumping around the shard. The shard is a chunk of broken planet bits. You eat bits of planet and store them in your gullet, then jump off into the Aether and regurgitate them up into your own pocket dimension to make the best planet. You can also attack other frogs to take what is in their gullets. Then it slowly gets more whack from there.
Here is what the publisher says:
Cosmic Frog is a game of collection, combat, and theft on a planetary scale. Each player controls a two-mile-tall, immortal, invulnerable frog-like creature that exists solely to gather terrain from the Shards of Aeth, the fragments of a long-ago shattered world. The First Ones seek to use the lands from the Shards to reconstruct the world of Aeth, and your frogs are their terrain harvesters.
Mechanics
Tile Laying / Pattern Building

Asymmetric Powers
Action Selection
How to Play Cosmic Frog
At the start of the game, your frogs descend from the Aether, the cosmic sea between the worlds, onto a terrain-rich Shard of Aeth. Once on the Shard, you harvest land and store it in your massive gullet. When your gullet is sufficiently full, you leap into the Aether and disgorge your gullet contents into your inter-dimensional vault for permanent storage, then return to the Shard to collect more land. Although your frogs' collective mission is to gather as much land as possible for the First Ones, your private goal is to prove yourself to be the greatest of their harvesters by delivering to them the most valuable vault. To do this, you have to fill your vault strategically in a manner that both maximizes linear sets of identical lands and maximizes the diversity of lands in your vault at the end of the game.
Throughout the game, you're free to keep to yourself and focus on harvesting at your own pace...or you may attack other frogs and try to take lands directly from their gullets. You may even raid another frog's vault and steal the lands they have gathered if they have been knocked into the dreaded Outer Dimensions. As you are all immortal and invulnerable, no frog is ever wounded or killed — just irritated and inconvenienced.
But don't ever get too comfortable with your carefully crafted plans as the Aether is a chaotic and unstable place. Waves of Aether Flux will prompt you to mutate, and you may have to change your strategy in accordance with your new powers. And Splinters of Aeth, tiny slivers of the old world that swirl madly about in the Aether, will periodically fall from their orbit and crash into the Shard, destroying large areas of terrain and blasting apart the very Shard itself!
The game ends when the Shard is stripped of all the delicious land or when a Splinter shatters it. When the game ends, the player with the highest valued vault wins, and the frogs move to the next Shard to gather more land for the First Ones...
Shipping & Handling

All of our games are packed and shipped to you by the next business day.

We ship where possible by re-using materials from our own deliveries. We do this to minimise our own enviromental impacts in getting your games to you.
Share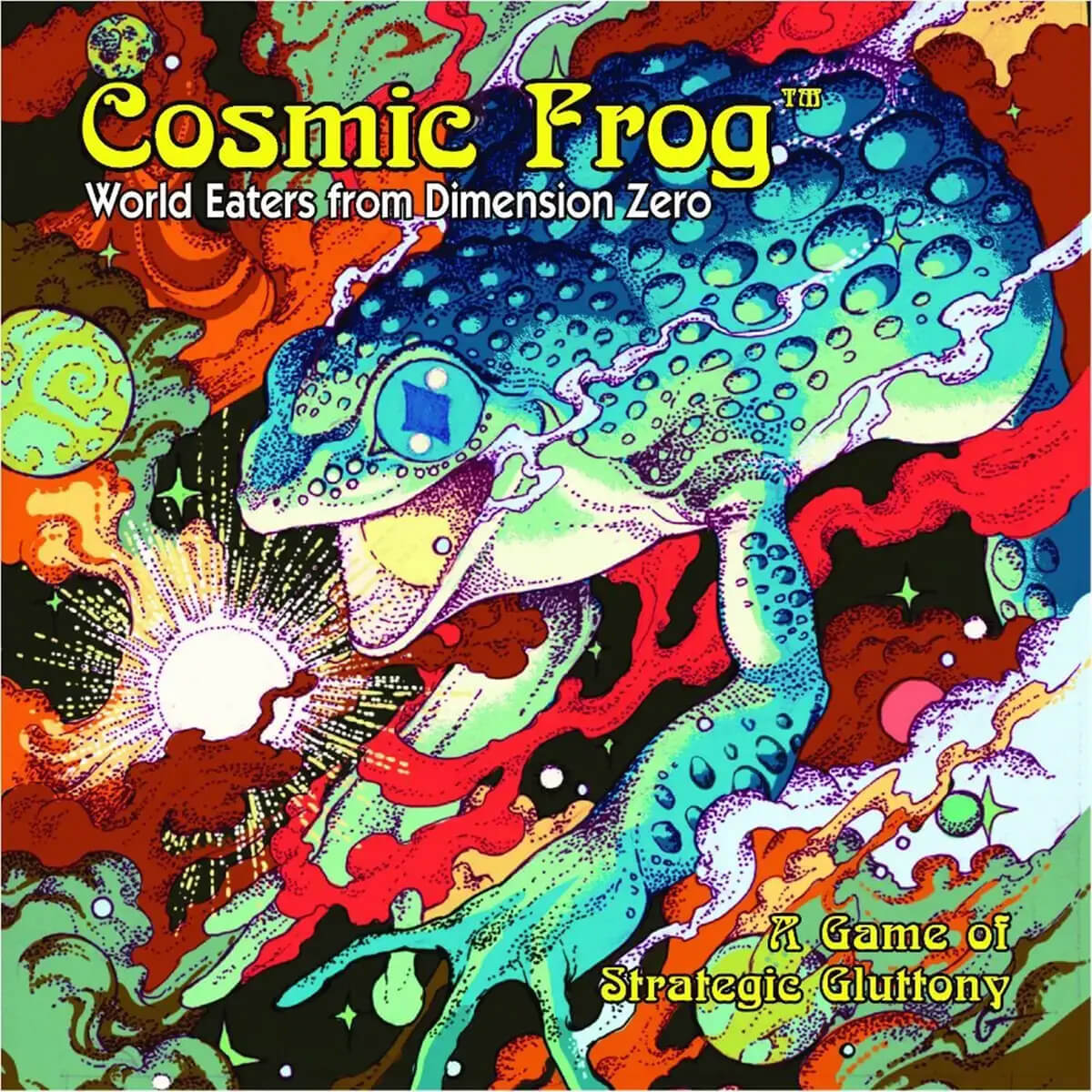 Cosmic Frog Resources
BoardGameGeek is an excellent resource including reviews, community forums and videos. The forums are full of helpful informtaion and there is a genuinely helpful community. It is one of our favorite resources, although does tend to be focused on heavier games.
How to Play Cosmic Frog
Cosmic Frog Review