Codenames Duet
Regular price
$35.00
Sale price
$27.95
Unit price
per
Sale
Sold out
Game Details
Number of Players: 2
Recomended Age: 11+
Play Time: 15-30 Mins
Complexity: Low Complexity
Interactivity: Co-operative
This is the amazing 2 player version of the hit game Codenames. Codenames Duet keeps the basic elements of Codenames — give one-word clues to try to get someone to identify your agents among those on the table — but now you're working together as a team to find all of your agents. (Why you don't already know who your agents are is a question that Congressional investigators will get on your back about later!)
Mechanics
Deduction
Communication Limits
Push Your Luck
How to play Codenames Duet?
To set up play, lay out 25 word cards in a 5×5 grid. Place a key card in the holder so that each player sees one side of the card. Each player sees a 5×5 grid on the card, with nine of the squares colored green (representing your agents) and one square colored black (representing an assassin). The assassin is in different places on each side of the card, and three of the nine squares on each side are also green on the other side!
Collectively, you need to reveal all fifteen agents — without revealing either assassin or too many innocent bystanders — before time runs out in order to win the game. Either player can decide to give a one-word clue to the other player, along with a number. Whoever receives the clue places a finger on a card to identify that agent. If correct, they can attempt to identify another one. If they reveal as many as the number stated by the clue-giver, then they can take one final guess, if desired. If they identify a bystander, then their guessing time ends. If they identify an assassin, you both lose!
Shipping & Handling

All of our games are packed and shipped to you by the next business day.

We ship where possible by re-using materials from our own deliveries. We do this to minimise our own enviromental impacts in getting your games to you.
Share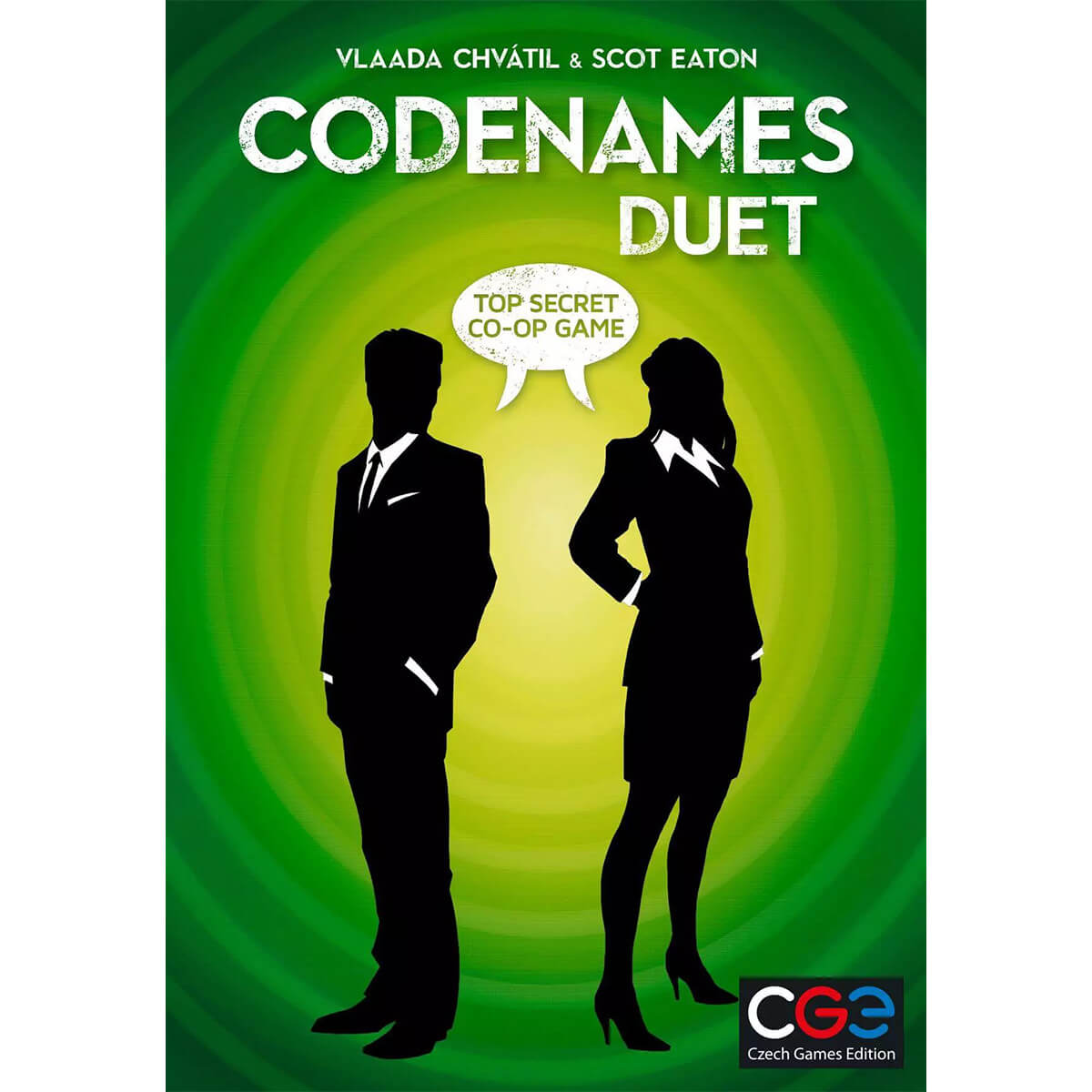 Codenames Duet Resources
BoardGameGeek is an excellent resource including reviews, community forums and videos. The forums are full of helpful informtaion and there is a genuinely helpful community. It is one of our favorite resources, although does tend to be focused on heavier games.
How to Play Codenames Duet
Codenames Duet Review