Nemesis
Regular price
$259.95
Sale price
$194.95
Unit price
per
Sale
Sold out
Game Details
Number of Players: 1-5
Recomended Age: 12+
Play Time: 90-180 Mins
Complexity: High Complexity
Interactivity: High Interaction
Nemesis is a 1-5 player space survival game with incredible miniatures and clever, immersive rules that include cooperation, bluffing, backstabbing, and all other elements of an iconic science-fiction horror adventure. The crew wakes up from hibernation. The damage report states there is a critical system failure and the ship cannot continue its cruise. The task to find the damage, repair it and safely return to Earth. The problem: One crew member is dead. Somebody ripped open his hibernation pod and pulled his body out. To make matters worse, you can hear noises in the vast corridors of the ship. They sound unlike anything you have heard before.
When faced with ultimate horror, will you trust your crewmates?
 Winner of many awards:
- 2019 Board Game Quest Awards Best Thematic Game
- 2019 Cardboard Republic Immersionist Laurel Winner
- 2020 Gra Roku Best Thematic Game Winner
(and nominated for many more)
This intense and beautiful game combines classic Science Fiction and Horror tropes to create a truly unique tabletop experience. Since soon after release this game has been a star in the Board Game Geek Top 100 Games (currently 18), and currently in the top 10 Thematic Games
Mechanics
Dungeon Crawler
Hidden Roles
Variable Player Powers
Shipping & Handling

All of our games are packed and shipped to you by the next business day.

We ship where possible by re-using materials from our own deliveries. We do this to minimise our own enviromental impacts in getting your games to you.
Share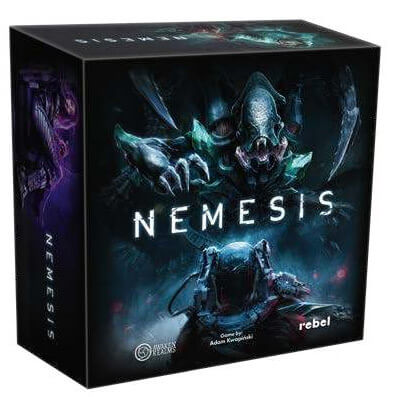 Nemesis Resources
BoardGameGeek is an excellent resource including reviews, community forums and videos. The forums are full of helpful informtaion and there is a genuinely helpful community. It is one of our favorite resources, although does tend to be focused on heavier games.
How to Play Nemesis
Nemesis Review