My Very First Games – Here, Fishy, Fishy!
Regular price
$54.99
Sale price
$39.95
Unit price
per
Sale
Sold out
Game Details
Number of Players: 1-4
Recomended Age: 2+
Play Time: 5-10 Mins
Chunky wooden sea creatures, a seriously strong magnetic lure, colour sided die, and a 'shape' puzzle turn the classic 'magnetic fishing' game into HABA's 'Here, Fishy, Fishy'. The art in the bottom of the box becomes an underwater diorama, and young ones will learn to take turns, identify colours, and use their dexterity to lower the magnetic fishing rod onto the correct fish. Catching the correct fish rewards them with a shape to put in their puzzle board, and the first to complete the board wins! 
Hearing these chunky wooden piece snap into place is remarkably satisfying, and while there is a game here, like all HABA products this is a product that feels good and plays well (not to mention the lure is amazing at retrieving lost items from three stories up! True story)
Mechanics
Dexterity
Puzzle pieces
Taking turns
How to play Here, Fishy, Fishy!
Wrangle children around the box and give each one a puzzle frame, one of each of the beach pieces, and place all wooden pieces in the box. When this fails make of pile of stuff they can all reach.
Whoever grabs the rod fastest takes the the first turn, unless prior diplomatic agreements have come to an alternative result.
On a player's turn they roll the dice and use the magnetic fishing rod to catch that colour fish. If they are successful they take a matching colour piece and 'puzzle' it into their puzzle frame. If they miss the fish and collect a different colour, then no prize... sorry. Once you've managed expectations, everyone takes turns rolling the dice and catching fish. The first to collect all 5 pieces wins, but of course EVERYBODY wins today.
Shipping & Handling

All of our games are packed and shipped to you by the next business day.

We ship where possible by re-using materials from our own deliveries. We do this to minimise our own enviromental impacts in getting your games to you.
Share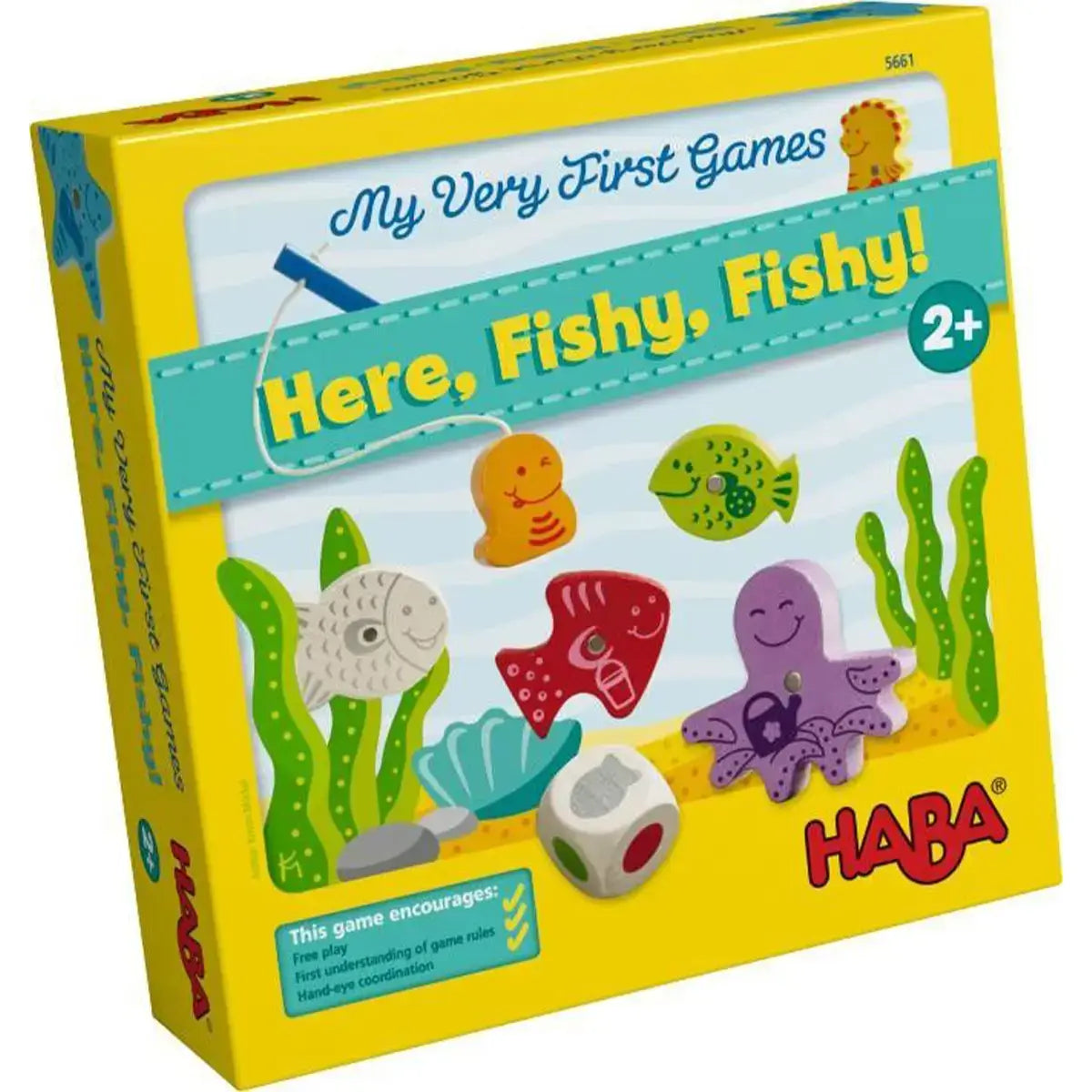 My Very First Games – Here, Fishy, Fishy! Resources
BoardGameGeek is an excellent resource including reviews, community forums and videos. The forums are full of helpful informtaion and there is a genuinely helpful community. It is one of our favorite resources, although does tend to be focused on heavier games.
How to Play My Very First Games – Here, Fishy, Fishy!
My Very First Games – Here, Fishy, Fishy! Review