Chinatown
Regular price
$79.95
Sale price
$64.95
Unit price
per
Sale
Sold out
Game Details
Number of Players: 3-5
Recomended Age: 12+
Play Time: 60 Mins
Chinatown is one of the best negotiation games. Chinatown it is the game everyone wants Monopoly to be.
New York in the 1960's. A new wave of Chinese immigrants is moving into Chinatown. The adoption of the new immigration act has launched the district in a demographic boom! It now reaches Canal Street to the north and Bowery Street to the east. The immigrants, hard-working men and women, are arriving by the thousands to buy buildings, establish businesses and fulfill the American Dream!
In this game, you are one of them. With all your savings in hand, the Big Apple is up for grabs!
Will you know how to use your talents and acquire the most extraordinary fortune in America?
Mechanics
Negotiation

Set Collection

Area Control
How to Play Chinatown?
The objective in Chinatown is to have the most money after the 6th year (round) wins the game.
Setup
Place the board on the table. Pick a colour. Grab a player aid. Get $50,000. Put he shop tiles in the bag. Shuffle the building cards. Place the year marker on 1965.
Gameplay
Deal business cards to each player (the number is dependent on the number of players and game round), each player then discards 2. Draw shop tiles from the bag (also dependent on he number of players and game round). Shop tiles are kept face down and relate to the squares on the board.
Then chaos. Open trading. Swap that business for that shop? Trade that shop for a 30% share in the profits for the rest of the game? Buy that card for $20000? 3 way trades? yep. This is the charm of Chinatown, and there is nothing quite like it.
Once the trade settles you build the businesses you want on the board, collect income for the number of matching tiles you control. Then move the year up an go again. 
Shipping & Handling

All of our games are packed and shipped to you by the next business day.

We ship where possible by re-using materials from our own deliveries. We do this to minimise our own enviromental impacts in getting your games to you.
Share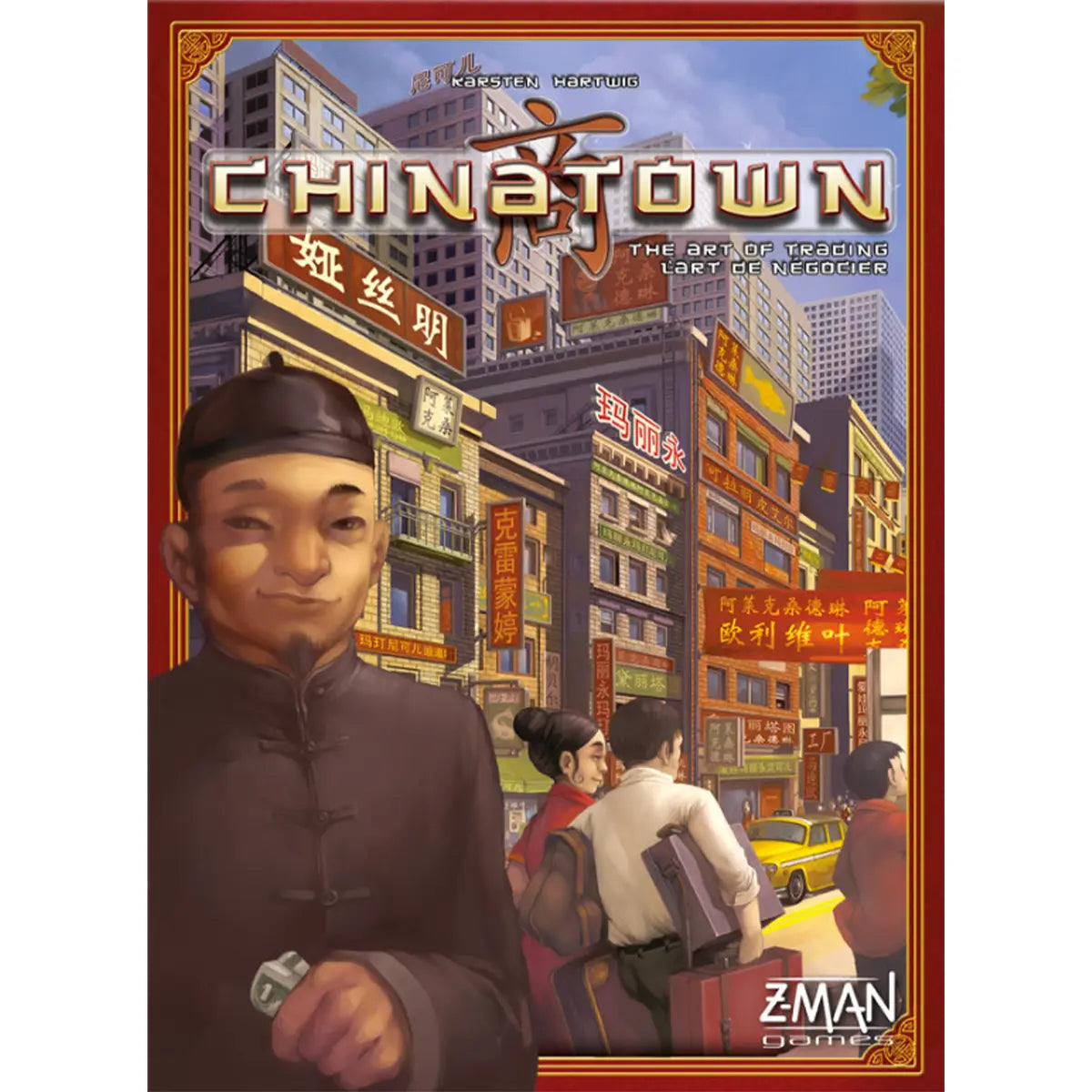 Chinatown Resources
BoardGameGeek is an excellent resource including reviews, community forums and videos. The forums are full of helpful informtaion and there is a genuinely helpful community. It is one of our favorite resources, although does tend to be focused on heavier games.
How to Play Chinatown
Chinatown Review